WARNING: HERE BE SPOILERS FOR AGENT CARTER SEASON 1. PROCEED AT YOUR OWN RISK…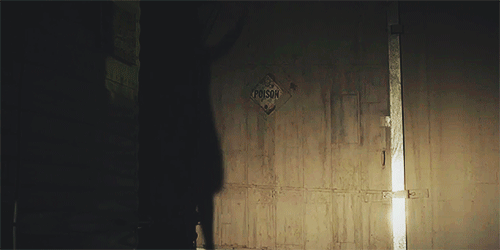 This past weekend, I spent three glorious days engaging in fandom at the Philadelphia Comic Con. The stand out of the event? A 45-minute Q&A with Agent Carter star Hayley Atwell in which she said awesome things like she hopes Agent Carter is a role model for boys and men, as well as girls and women And: "I'd like to see [Peggy] use her heel to hurt someone."
As someone who spent the first season reviewing this show for Head Over Feels, I expected to enjoy this panel, but was blown away by the eloquent, empowering responses from this British actress (and by the amazing, complex questions poised by the fans). Here were my 10 favorite long-form quotes from Hayley's panel.
On the prospect of adding more female spy characters — specifically, a woman of color in Season 2
"I think it's a fantastic idea, and it's something we've really been talking about because one thing that something have responded so well to is having the nemesis in Dottie, this supposedly all-around American girl who was just lovely and a friend to Peg. And all of a sudden, it turns around that she has this extraordinary power and she uses it for evil. And that also creates an equality between the fights, between Peggy and Dottie. They meet their match, and Dottie's almost the evil version of Peggy. And I think it's something we'll continue. And the exciting thing is, we know from Season 1, that Dottie is not dead. She managed to escape somehow, and I don't think we've seen the last of her.
But, also, as you were saying, a woman of color is incredibly important and I think would be a fantastic idea. And it's something that I'll talk to the writers about and see what's out there."
On recent criticisms of Marvel's underrepresentation of women
"It's a good question. I mean, I haven't seen the actual criticism, so it's very hard for me to make an informed opinion on it without seeming a bit in my own head. But, I think, you know, Marvel gave me a show — a female-centered show where they ask me to come into the writer's room every day, where they ask me to speak to the showrunners, to have a say in the costumes. To have a say in the stunts and the way that we wanted to tell the story. I don't know necessarily of any other studio system in Hollywood where that seems to be, for a relatively unknown actress, an opportunity. So, all I can say is that's the evidence that Marvel love women and that they're setting the groundwork for other shows like mine to be made. They took a chance on me, and here we are at Season 2 and it's paying off. And it's thanks to their belief in me and the show, so I have no criticism in that respect."
On when she first realized the cultural power of Agent Carter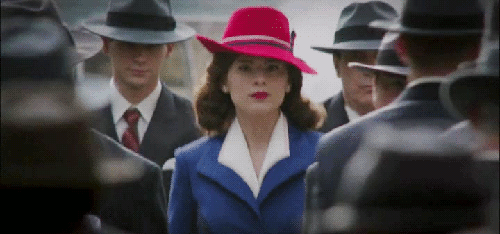 "Probably the extent of it was coming to Comic Cons and coming to events like this. There was one I went to recently in Dubai and there was this extraordinary woman who was wearing a full burka and she came up to me and she had tears in her eyes and she said, 'Can you write on my picture that women can be heroes, too?' And I just thought that was so moving and I burst into tears and then she burst into tears, but, you know, things like that.
And there was also a woman that I'd met and she had — I think it was a degenerative disease and she hadn't had work of her legs for about ten years — and she had me write my autograph down and she'd had it tattooed on her leg. And she said it was a way of empowering herself by putting kind of role models on what she called her broken body as a way of claiming back power and who she was. And I found that to be truly moving, more so than the commercial success. More so than anything like that it's when you have moments where you've met people who it's positively affected their lives that you realize the power of it."
On the physicality of Peggy's masculine fighting style vs. her femininity
"I think not one person is ever one thing and it's saying that you don't have to be purely aggressive or masculine in your physicality in order to be taken seriously or achieve what you want or to fight the fight that you want to fight. And so Peggy's femininity is actually a source of her strength and her vulnerability is actually a source of her strength because she can use it when she needs to.
You know, the fact that in Season 1, she's wanting to attain information and she does it by going in and pouring coffee and pretending that it's kind of her time of the month so she needs to take a sick day. I mean, it's great. I'm sorry to be crass, but it's fantastic that she's going, 'Let's not deny those aspects of who we are. Let's embrace them and use them to our advantage.'"
On knowing your value

"Know your value. I think to fully embrace who you are, with every aspect of what that is: the good, the bad, the ugly. There's no such thing as perfection, and that's I think the beauty and potential of human beings is we have the capacity for greatness and we have the capacity for darkness and it's up to us to decide which path we want to take."
On potentially cameo-ing in Captain Marvel, and the joy of working with other women
"The power of having women together is quite extraordinary. And the way that they take care of each other and a different kind of strength comes out. And to be able to be in an ensemble with other women would just be a complete dream and a joy. I don't know how much work would get done, but I don't think it would matter."
On growing up in a progressive community
"Growing up in London and having very liberal parents who were interested in psychology and were interested in universal spiritual principles and the belief in liberation for all human beings — not just women, but for men, as well. I think I felt very lucky and fortunate that they brought me up to often say things like, 'You're smart. You have a voice,' rather than, 'You're so pretty. Oh my god. You look so skinny in that dress.' They weren't people who instilled those kinds of values in me. They just said, 'Stand up. Speak clearly for what you believe in, and trust yourself. And trust that you came into this world with an innate set of skills that are completely personal to you. And it's almost your responsibility to let yourself shine because, in doing that, you can only ever make other people shine.' And that's what I'm interested in."
On what her favorite random fighting object has been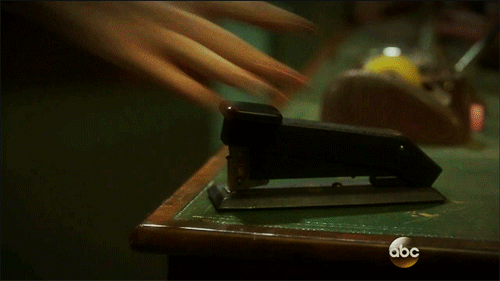 "It's gotta be the stapler. When I read it, I just thought, 'Oh god, that's gotta hurt.' But that's also partly why I like her because she kind of fights dirty in the sense that she doesn't have any superpowers so she just has to use what's around her. So, it's very intelligent fighting and the fact that she can do it in high heels is very impressive."
On thematic parallels between Peggy and Sousa/Steve's characters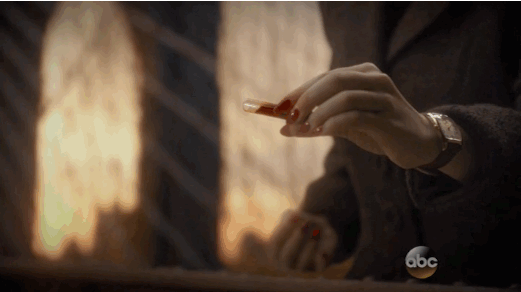 "I think one of the things from the first Cap/Avengers film that Peggy and Steve had in common was a so-called 'disability' in being the underdog. She was someone who wasn't taken seriously because of her sex. He was someone who had a physical disadvantage over the other guys going to war. And I think that created a kindred spirit between them, which meant they were looking beyond the aesthetic into the true souls of who they were. And I think that's also what's so appealing with Sousa's character because he understands what she would be going through. And I think what's wonderful about that is you have a relationship that's not based on lust and desire, in that sense, you're having two imperfect souls getting together and fighting the same cause, which is to be able to have the strength to stand up for who they are and what they believe in. And I think that's kind of the heart of their relationship."
On what she's most excited for in Season 2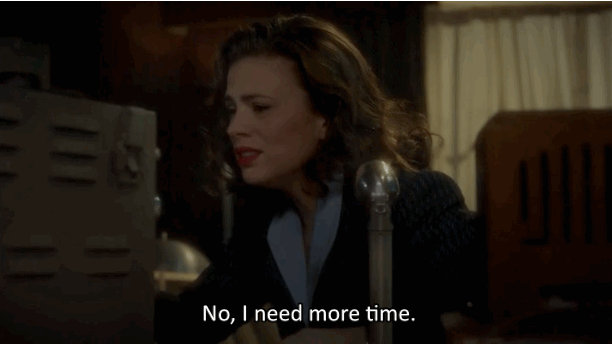 "I think, aside from any storyline or plot, the exciting thing is I get to work with the same people again. So, the same costume designers, the same art direction and props, most of the same crew who are available, the same producers. And I get to be in the writer's room with Tara Butters and Michele Fazekas, who are fantastic showrunners and it's great that they're in charge of the plotline and they're both women. And so some fantastic, strong, and very smart women that are involved in the making of this. So, there's something incredibly empowering about going onto the set everyday and you're with a group of people who not only excel at their craft, but they have this show that they're making that's a labor of love."
Are you as excited for Season 2 of Agent Carter as we are? Sound off in the comments below!